Local arborists, DEDICATED TO PROVIDING EXCEPTIONAL SERVICES IN HITCHIN
TREE SURGERY IN HITCHIN, HERTFORDSHIRE
Dependable Tree Surgeons Hitchin
If you require a professional arborist with decades of combined skills and expertise to handle your tree care needs, then we can help. From removing multiple large trees to crown reduction, we'll swiftly address your needs.
Contact us to obtain your FREE quotation, and see how we can help you.
Welcome to Hitchin Tree Surgeons
Your local, trusted arborist. Here to take care of all your tree care needs. We offer a vast array of services including the following:
Tree Surgery
We can help with all your tree surgery needs. From a large oak tree that needs removal to a small hedge.
Tree Cutting | Pruning | Trimming
When your trees need to be trimmed, pruned or even removed, we can help. All tree types taken care of.
Tree Felling
The process of cutting down either a single or multiple trees and disposing of all waste, branches & logs.
Crown Reduction
Crown Reduction removes weight from branches and allows the tree to be less 'top-heavy' & more healthy.
Stump Removal
After tree removal, the stump can also be cut below ground level to remove all traces and leave you with a clear area.
Hedge Cutting
Enhance your property with our professional hedge cutting. From a one-off trim to regular maintenance, we can help.
Emergency Tree Removal
From a loose hanging branch to a tree blocking a road or any emergency situation, we will be able to help. Contact us anytime.
Tree Reshaping
Transform the look of your trees with our professional tree pruning service, leaving them looking stunning and healthy.
Sectional Dismantling
Tree removal carried out in smaller sections to ensure no damage occurs to the surrounding area.
Dead Wood Removal
Removing dead sections and branches from a tree promotes healthy growth and can prevent disease from spreading.
Domestic Tree Surgery
We cater for all aspects of residential tree surgery. All works undertaken to the highest standard.
Commercial Tree Surgery
From builders to schools, we have many commercial clients. Call us if you also require commercial tree services.
We will ensure all your Tree Surgery requirements are swiftly dealt with. Contact us now on 01462 412 994
About us
At Hitchin Tree Surgeons, we are dedicated to ensuring that the services we offer exceed our client's expectations. With decades of combined experience, you can be confident that you are in safe hands, and no matter whether your tree care needs are large or small, we will ensure we deliver the same high standard of workmanship on all projects we undertake. For the best tree surgery in Hitchin and the surrounding areas of Hertfordshire, please don't hesitate to contact us anytime and schedule your FREE site survey. You can find out more about us here.
We also work with other reputable company, and some of our trusted partners are Tree Surgery Wymondham and Carpet Cleaners Borehamwood.
Here are some photos of our skilled tree surgeons hard at work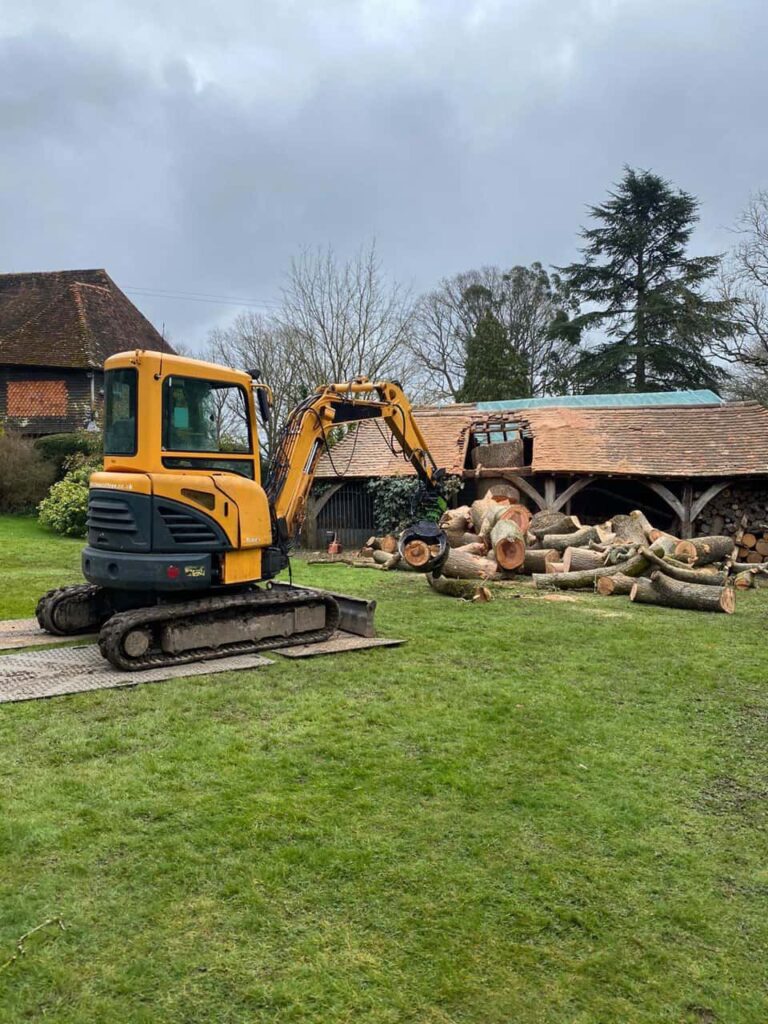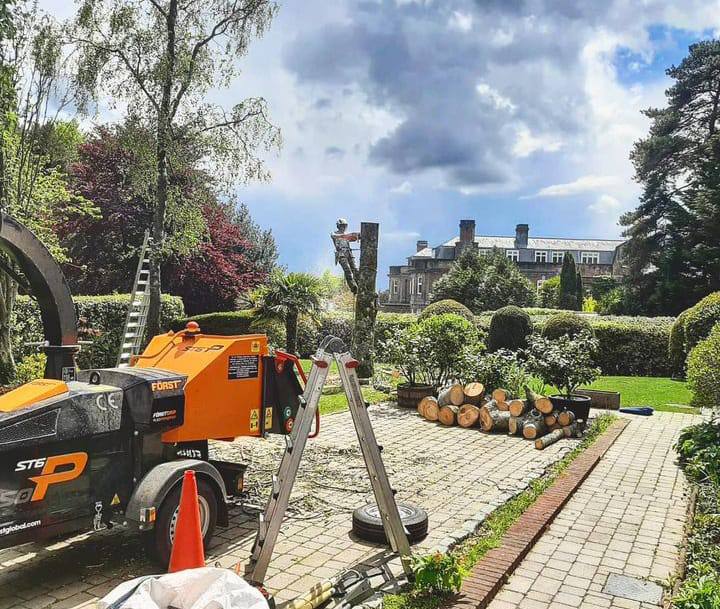 Other areas in the surroundings of HITCHIN, HERTFORDSHIRE where we can offer our tree surgery services in:
Tree surgery is a critical aspect of maintaining your trees' health and aesthetics and ensuring your property's safety. Our expertise in tree surgery makes us your go-to solution for all your tree care needs.
Tree surgery involves a range of techniques and procedures to preserve trees' vitality and prevent potential hazards. Pruning, for example, is a standard tree surgery method used to remove dead or overhanging branches, improve the tree's structure, and promote healthy growth. This enhances the tree's appearance and reduces the risk of falling branches that could cause damage or injury.
In addition to pruning, our skilled tree surgeons are equipped to tackle more complex tasks such as tree removal and stump grinding. These services are essential when a tree becomes diseased, damaged, or dangerous to its surroundings. We utilise the latest equipment and follow industry best practices to ensure tree surgery is carried out safely and efficiently.
Regular tree surgery not only preserves the beauty of your landscape but also contributes to the longevity of your trees. With our professional tree surgery services, you can trust us to meet all your tree care needs, ensuring your outdoor space remains safe, appealing, and well-maintained.
Tree felling, an essential aspect of arboriculture, involves the careful and controlled removal of trees. This process is typically necessary for various reasons, such as ensuring safety, clearing land for construction, or eliminating diseased and damaged trees that threaten property and people. Tree felling demands expertise and precision to avoid accidents and damage to surrounding structures. At Hitchin Tree Surgeons, we pride ourselves on offering comprehensive tree felling services, delivering skilled professionals and advanced equipment to handle all your tree removal needs.
The process of tree felling starts with thoroughly assessing the tree, its surroundings, and potential risks. Our experienced arborists evaluate the tree's health, structural integrity, and proximity to buildings or power lines. Once the assessment is complete, our team plans the felling process meticulously, ensuring minimal disruption and maximum safety. We employ advanced techniques like directional felling, where the tree is carefully guided to fall in a specific direction, avoiding obstacles and hazards.
There are various reasons to consider tree felling.
Dead or decaying trees can become unstable, risking collapse during adverse weather conditions. Trees too close to buildings or power lines can cause significant damage if they fall. Moreover, felling trees might be necessary to create space for new constructions or landscaping projects. Whatever your reasons, Hitchin Tree Surgeons is dedicated to providing efficient, safe, and reliable tree felling services tailored to meet your specific requirements. With our expertise and commitment to quality, you can trust us to handle all your tree felling needs with professionalism and care.
Tree cutting, pruning, and trimming are essential to maintain the aesthetics, health, and safety of your trees and surroundings. Tree cutting involves partially or entirely removing a tree addressing issues like overgrowth, decay, or hazards. Pruning focuses on removing specific branches to enhance tree structure and promote growth while trimming involves shaping the tree for aesthetic purposes and removing excess growth. At Hitchin Tree Surgeons, we specialise in comprehensive tree care services, ensuring your trees are expertly managed.
Our skilled team of arborists is proficient in tree cutting, employing precision techniques to remove trees, even in confined spaces, safely. We understand the significance of proper pruning, enhancing tree vitality and longevity. With our expertise in trimming, we sculpt trees to complement your landscape, ensuring they remain healthy and visually appealing.
At Hitchin Tree Surgeons, we pride ourselves on our attention to detail and commitment to customer satisfaction. Whether you need a tree cut down, pruned for safety, or trimmed for aesthetics, our professional team is dedicated to delivering high-quality, tailored solutions. Trust us to meet all your tree cutting, pruning, and trimming needs with expertise and care. Your trees are in safe hands with us.
Stump grinding is essential for any property owner dealing with the aftermath of tree removal. At Hitchin Tree Surgeons, we understand the importance of stump grinding in maintaining the aesthetics and safety of your outdoor space in Hitchin and its surrounding areas in Hertfordshire.
Removing a tree is just part of the job; dealing with the leftover stump is equally crucial. Stump grinding eliminates the unsightly remnants of trees, ensuring your landscape is not marred by protruding stumps. Beyond visual appeal, stump grinding also prevents potential hazards. Stumps left unattended can pose tripping risks, damage lawnmowers, and become a breeding ground for pests and diseases.
Our expert team at Hitchin Tree Surgeons is equipped with advanced stump grinding machinery capable of grinding down stumps to below ground level. This process eliminates the visible part of the stump and the extensive root system beneath the ground. This ensures that your outdoor area is not only free of eyesores but also devoid of any future complications related to leftover tree remnants.
By choosing Hitchin Tree Surgeons, you're opting for seamless stump removal, enhancing the safety and aesthetics of your property. Trust our professional and efficient services to transform your outdoor space into a stump-free, beautiful landscape. We're committed to providing top-notch stump grinding services tailored to your specific requirements, ensuring your property in Hitchin and the surrounding areas of Hertfordshire remains pristine and hazard-free.
Crown reduction is a vital tree management technique to reduce a tree's canopy's overall size and shape. This process involves selectively pruning branches and stems to maintain the tree's natural form while reducing its height and spread. The tree's weight distribution is balanced by carefully removing specific branches, preventing potential hazards and promoting healthy growth.
At Hitchin Tree Surgeons, our skilled arborists execute crown reduction with precision and care. Our team assesses each tree individually, determining the appropriate pruning points to ensure the tree's structural integrity. We employ industry-standard techniques, avoiding topping, which can cause irreparable damage. The process is meticulous, involving expert knowledge of tree biology and growth patterns.
The benefits of Crown Reduction are numerous. Firstly, it promotes the tree's health by allowing sunlight and air to penetrate the canopy, stimulating new growth and reducing disease risk. It enhances the tree's aesthetics, making it more visually appealing and harmonious with its surroundings. A Crown Reduction mitigates potential hazards by reducing the chances of branches falling during storms or strong winds.
At Hitchin Tree Surgeons, our dedicated team is committed to preserving the natural beauty of trees while ensuring the safety of your property. With our expertise, your trees will thrive, enhancing the appeal and security of your outdoor space.
Hedge cutting, an essential aspect of garden maintenance, involves pruning and trimming hedges to maintain their shape and promote healthy growth. At Hitchin Tree Surgeons, we understand the importance of well-maintained hedges in enhancing the aesthetic appeal of your property. Our skilled team of professionals utilises precise techniques to trim hedges, ensuring they flourish and provide an attractive boundary to your garden.
The process of hedge cutting involves carefully trimming branches and foliage, removing dead or diseased parts, and shaping the hedge to achieve a neat and uniform appearance. Regular hedge cutting enhances the overall look of your garden and encourages dense growth, creating a natural privacy barrier.
Properly trimmed hedges improve the curb appeal of your property, making it visually appealing and inviting. Additionally, well-maintained hedges can act as a windbreak, reducing noise pollution and providing a sanctuary for local wildlife. Moreover, by promoting healthy growth, hedge cutting ensures longevity and durability, preventing overgrowth issues in the long run.
At Hitchin Tree Surgeons, our dedicated team is committed to delivering top-notch hedge cutting services tailored to your specific requirements. With our expertise, we ensure meticulously trimmed hedges that transform your outdoor space into a picturesque haven. Let us take care of your hedge cutting needs, ensuring your garden stands out in all its natural beauty.